Fashion is a contemporary thing, meaning it is changing all the time. You need to keep yourself updated to keep yourself standout in the crowd.
But don't be afraid. I am here to suggest you to do little things and to keep some details in mind to look smarter and sharper than others.
The best part of my advice is they are time-proof. Therefore these suggestions should help you look stylish, smart, mature and trustworthy now and in future also.
Now we go through different elements of men's fashion in details to give a piece of knowledge the way they should be worn in style.
Suits:
Suits are musts for every man's wardrobe. It is the most versatile and universality accepted clothing to give a taller, stronger, smarter and sophisticated look to anybody.
Now we will go through different kinds of suits depending cut, colour, fabrics, pocket flaps, buttons, style and details.
Single Breasted Suit: This type of suit is classic in style and widely available.  Commonly one to three buttons are used to join the two sides in the front with a notch lapel. You can wear these jackets with chinos or jeans for a casual look. Single-breasted suit are divided into three types considering the number of buttons.
One-button single-breasted suit jacket: It is like the tuxedo, meaningless formal and for a more formal, cool, hip look. This style is good for showing a tie and shirt combination in any formal or social event.
Two-button single-breasted suit jacket:  This is the more classic and mature version of the earlier one. Anyone can look good in these suits. To button suits are suitable for any business or social event, adding a stylish touch to your outfit.
Three-button single-breasted suit jacket: It is conservative yet stylish. Three-button suits are for taller man and look good when used with a waistcoat.
Double Breasted Suit: This type of suits is more formal than the earlier one. Usually comes with four buttons, but six or eight buttons are also common. Here you can see peak lapel to highlight the shoulders.
Fasteners are used in this type of suits to keep the extra fabric in place.
The British Cut Suit:
Developed by English soldiers with special type of cuts, heavier fabrics, sharper shoulder, waist, and chest. This type of suits typically has two vents at the back with higher arm holes. Designed for the elite class and best for average built persons.
The American Cut Suit:
This classic cut suit is the first one to be mass produced to make it affordable. It has soft natural shoulder, narrow waist, single centre vents, and straight silhouette, with no dart canvas. If you are planning to wear a suit for long hours, then this is the ideal one. Low armholes and flap pockets are found in this type of suits.
The Italian Cut Suit:
This suit is good in warmer weather with a casual look. Light in weight and more organically designed to follow the body curves. The tight waist of this type suits goes well with slim and flat stomach. This type of suits has flapless pocket and high gorge line and buttons.
Lapels: This is the folded fabric which starts from midpoint of the collar around the shoulder and creates the chest opening of the Suit. According to Lapels, Suits are classified in three categories. They are:
Notch Lapel Suit: It is for the V shape cut at meeting point of the color of jacket and the lapel. This type of lapel is versatile, classic, traditional and timeless. Therefore, this lapel is found in Business Suits.
Peak Lapel Suit: These are the most formal of the all lapels. Sharply pointed towards the shoulder making a bold and confident statement. Peak lapels are found in double breasted suits always.
Shawl Lapel: You will find this type of lapels in casual suits like Tuxedos and in Dinners jackets. It has no sharp ends or button holes.
These are the main characteristic on which suits are categorized. Further it can be classified on less important aspects like the Design of the Pockets, Number of Vents, etc. We will discuss about that some other day.
Add some classy and good looking watches to your collection. Choose the watch as a piece of art, considering the width and comfort of your wrist. Lets go through some different types of watches according to style:
Dress Watch: These types of watches are for formal occasions. Come with a black or brown leather strap and simple dial. Most of them lack the second hand, quarter hour mark or a date window.
Field Watch: Comes with a canvas or leather strap for a rugged style. Simple dial with good readability are main factors of this type. You can wear this type of watches with every day casual wear or even with business casual.
Dive Watch: From the name it's suggests the watch is used for underwater diving. Therefore a complicated dial with lots of elemnets is used for accurate information. These watches are favorite among adventure loving people for its water, dust, heat and pressure resistant features. Anyone can wear it with sportswear, casual wear, business casual wear, and business formal wear.
Aviator Watch:
Another type, that goes with the casual look. Unlike the field watch it has a oversized dial often black with white numbering, laminated hand for increased visibility in dark condition. As the watch was developed for pilots it is best for pilot suit apart from that it can be wore with casual wears. Aviator watches are accurate and hi-tech in nature. As they may have chronograph, GPS systems, bezel for calculating fuel consumption, or even a satellite radio distress beacon, sometimes an altimeter.
Chronograph watch: Some people may think it's a function than a type of watch. The basic features of this type of watch are recording time. For that reason it has two buttons one start/stop and the other is reset. One can have flashier colors with variety of styles in this type of watches.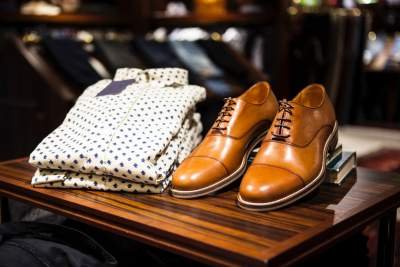 Shoes can be a game changer. You must choose your shoes responsibly. Color, leather, pattern, sole everything is important about shoes. i) Canvas shoes ii) Brown leather boots and iii) Black Leather shoes are the must have for your wardrobe. As a result you can have more than one pair of shoes to match for different occasions.
Chukka Boots or Suede Desert Boots is a good option if the weather is warm and sometimes if your look is demanding that.
Even casual leather shoes like brogues saddle shoes or loafers can make your everyday outfit stylish.
Glasses are an important part of your look. Take time while buying Glasses and don't go for cheap ones. Because it will be with you for the next couple of years. While buying, consider your shape of your face, eyebrows, hairstyle, etc.
Here we go with some well fashioned and popular sun glasses:
Wayfarer: Originally invented by Ray-Ban for evoking the classic Hollywood style. This are timeless, flattering and eventually works for everyone. With glorious history and celebrity endorsement you can different colors of Wayfarer Sun Glasses including the more classic ones like black or brown.
Aviator: Keeping the Pilots in mind this sunglasses have a robust look with oversized glasses and thin metal frames. These can be good choice for casual occasions. You can opt for a plastic framed which is also available now days, for a trendier look.
The Clubmaster: Another version of sunglasses created by Ray Ban, which became very popular during 1950's. It used to have large upper rims and thin metal wire rims around the bottom of round shaped glasses.
Round Style: These sunglasses come with small perfectly rounded glass. Being one of the oldest types of sun glasses, it still gives a cool, trendy but vintage look.
It always feels better if someone smells good. But don't overdo it. Hint of nice cologne is great. Good fragrance increase attractive among people including women and increases confidence. Though it is invisible but creates emotional bond with other. Helps people remember you.
Except from holding your pants in the right place the belt has lot do in making powerful fashion statement. Primarily there are three types of belts in the market i) Leather Dress Belts ii) Casual Leather Dress Belt and iii) Webbed Fabric Belt or Woven Belt.
Leather Dress Belt is for formal use. These belts are 1 to 1.5 inch in strap length. Usually with shiny black or brown leather. They are normally un-decorated with small, plain and polished frame styled buckle.
Casual leather Belts are good for Jeans and Kahakis. The strap is wider more than 1.5 inch and little bit thicker in comparison to Leather Dress Belt. The leather usually tanned or natural in color. This type of Belts has larger and / or decorative buckle in the shape of plate, box or frame.
Webbed Fabric Belt or Woven Belts are mainly for summer casuals. These types of belts are wider than casual leather belts and usually having a double D ring. You should choose strap which matches with chinos and shorts.
Bag:
Get away from the idea that bags are for women. On the contrary there is a bag for every man that makes his look. There is lots of option when it comes to bags depending upon your purpose or need. You can have Backpack, Tote Bag, Satchel, Briefcase, Duffels, Beach Bags, Messenger Bag.
Backpacks:  These types of bags may remind you of your High School days.  But believe me, we are here talking about those backpacks which are genuine menswear classic. Now it can be your companion in your business meetings, weekend pursuit and even in the gym. You just have to choose it correctly. Choosing a rugged or muted colour backpacks saves you from a juvenile look.
Naturally, these types of bags come with lots of compartment and pouches each specifically designed for laptops, tablets, phones, water bottle, etc.
Tote Bag: Lies somewhere between the briefcase and the backpack these type of bags are for casual purpose. They are spacious, simple, durable suitable for weekend or beach parties. Often made of canvas with different colours to suit every age.  For a masculine look, one should opt for chocolate brown or black one.
Briefcase: These are the oldest form of bags and specially designed for your workplace. Made from leather, square in shape, round-cornered and having lots of pockets are the main characteristics of briefcase bags. The shape of this bag is ideal for office going people to carry documents, laptops and even an umbrella. Small compartments in the exterior side give easy access to your wallet, phone, pen, etc. The best combination is with a suit for giving a look that you are going for a business meeting.
Duffels: Durable and expandable material of this bag makes spaces for everything you need during your weekend visits or business trip. Nylon Duffels are good gym trips whereas the leather exterior duffels flaunt a classic look for business trips.
Messenger: As the name goes, these bags are used to transport mail in the past.  The long single strap and a big single pouch help the bag to sit on the hips and to carry lots of items. Usually made out of canvas or nylon make them long-lasting and safe for the contents inside. However, canvas messengers will work for a casual outfit while leather ones go with the formal dresses.
Satchel:  It quite similar to the messenger bag but smaller in size. Developed in the 1920s keeping the schoolboys in mind. The main compartment of this bag is open. It helps easily to slide things in and out. Canvas exterior makes it less formal. 
As we have earned an ample amount of knowledge about different men's fashion items, now we can shift our focus to some DO'S and DON'T. These tips will give you some fundamental but important knowledge about how men's fashion should be handled took look iconic.
Do's:
Wear only that fits you.
Always go for quality than quantity.
Take your measurements before you go shopping.
Shine your shoes often.
Clean and iron your shirts regularly.
Fix damaged clothes as soon as possible.
Get rid of unwanted stuff from your Wallet.
Wear light colours in summer and dark in winter.
Take care of your skin.
Trim your beard regularly if you want them.
Use hair gel to keep them organized.
Add an extra layer to look interesting.
Don'ts:
Never wear T-shirts with logos or advertisement.
Jeans, never wear them when they are too much embellished.
Never wear your dad's dress.
Never socks with your sandal.
Never match the Tie and the Pocket Square.
Avoid Dry cleaning of clothes.
Don't follow the trends.
Don't wear belts and suspenders at the same time.
Don't mismatched accessories.
Never baggy clothes no matter what your physique is.
Conclusion:
At the last one must realize that style depends a lot on the confidence and the attitude. Therefore, wear something that you are comfortable with. Dress according to your body and personality. Never shy to be overdressed for the occasion. So follow these tips and have fun in life.